shair is a project run by dst group that brings together young artists from different areas to share their works in one space.  José Teixeira – chairman of the board of dst group, highlighted the philosophy behind the project:
"shair is an approach to contribute not only to the discovery and sale of emerging artists, but also to provoke controversy, encourage conversations and foster artistic production."
Tons of brand new artistic ideas appear in our heads or online every day. The creativity became one of the most popular buzzwords and everyone likes to think outside the box nowadays.
My friend is one of the most talented artists I know. My only concern is that he won't have a place to sleep anymore, because his apartment is packed with his paintings. Hiding the masterpieces is like making the best cookies in the world, but never let anyone to taste them.
But thanks to PortugalStartups.com, I had a chance to meet shair – the smart project where my friend can share his artistic work. Nothing makes us happier at PortugalStartups.com than introducing "Baby startups" that definitely deserve some attention! shair is the youngest Startup that we have brought to you so far. Even though their journey only started in April 2014, they are already breaking many barriers and fostering the freedom in Arts.
This emerging Startup from Braga is letting more and more people from around the world enjoy Art.
How?
shair is not only an online collection of Art. We are a project divided between the online platform and the physical gallery in Braga, Portugal. Our main goal is to give emerging artists the opportunity to share, exhibit and commercialize their artworks – Mariana Gomes, shair
Online Gallery
Any (even self-appointed) artist can create an account on shair and submit his/her works. But, for all the speculators, the only catch here is the pre-approval process made by a curator. This "accept or reject" step has to be overcome for all the logical reasons. But nothing to be worried about – the only pieces that do not get submitted, are the ones that show no effort. (How would the "artistic" selfie taken on Holidays look next to the decent painting?) – Still, more pieces are accepted then rejected.
Once the artist passes through the selection process, his work is part of a gallery and all the registered users can vote for it. If the painting, drawing, photograph or sculpture gets enough votes, it can be auctioned. How is the Online Gallery connected to the real one in Braga? The pieces that get most voted or are highlighted by Guest Judges are selected to take a spot at the Physical Gallery and be part of an exhibition.
The website is yet available in English and Portuguese. If you are not exactly an artist, you can become one of the 7000 users of shair, so you can choose a unique piece of art for yourself. Till this day, 700 users from all those registered ones submit their works. Many companies and organisations prefer to use shair, because it is a very efficient way for them to complement their offices with artwork.
Gallery in Braga that started the Story
Mariana Gomes is the one that brought the idea of shair to life.
I was a part of dst group that supports new business ideas. They made an open call to fill in the unused physical space for the promising businesses. This came just on time, since I already had the idea for an online Gallery, but was missing the venue. Something I call a perfect match! So since April 2014, I have not only the space, but am also surrounded by a team of 4  people working on Marketing, Design and Curating.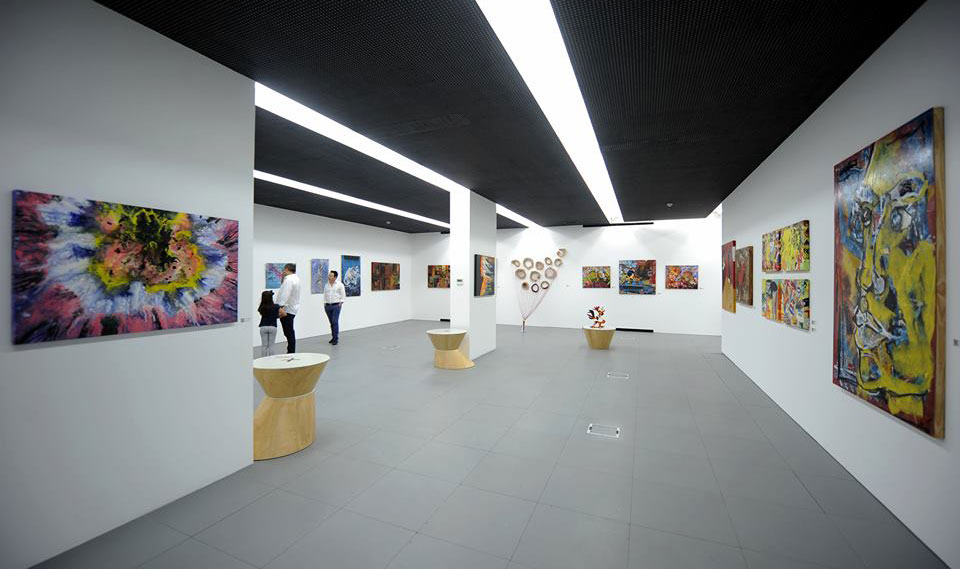 The Gallery is opened to public from Tuesday till Saturday and hosts many cultural events, conferences or debates.
Next steps of shair

shair is not only a gallery, art collection or online shop for drawings and photographs. The creative team at shair never sleeps and offers Gift cards –as a part of Christmas campaign, but also as a permanent option for art-friendly people. Another interesting additional service for customers is the chance of advising on arts to different companies or individuals by the team´s curator.
One of the advantages of being a newly launched Startup is that there are more things that haven't been tried yet. Does the team have high expectations from shair for the future? Well, of course. But not only that, they are working hard to bring changes and to grow.
shair is involved in the Startup Braga acceleration program that has proved to be a huge help. For shair, Startup Braga means new contacts of mentors and hours of learning that saved weeks of work. They have the big plans with the website. The blog that is running right now, is only in Portuguese, but will soon be in English. The same applies to their Facebook page along with its almost 7000 fans. The new version of the website is also on the table with a launch planned for February 2015. The vision is clear – to get more international attention, starting by getting artworks from other galleries.
Portugal might be a small country, but has so many stories of Startup Newbies to be SHAIRed!