Imagine there was a TV Channel with no big studios, no cameras and no reality shows. That you'd be able to watch programs dedicated entirely to culture, arts and creativity. With Canal180, the first Portuguese Open Source TV Channel, there are no limits to imagination. And what makes it stand out? Unlike the vast majority of TV Channels worldwide, Canal180 is on a mission to change the future of media channels, even the future of arts. Giving the spotlight to the new generation of artists, broadcasting innovative content and curating the projects from around the world – That´s the daily agenda of Canal180.
Their motto has already been acknowledged, both nationally (Prémio Indústrias Criativas) and internationally (Cannes Festival of Creativity) in 2012. Not a bad start for a startup, don´t you think?
What is Canal180 all about?
[vimeo http://vimeo.com/61842485]
Watching videos on Youtube or Vimeo is one thing. But sometimes we go for quality content on TV screens, which is – let's face it – not so easy to find. And that´s why João Vasconcelos and Nuno Alves created Canal180 in 2011. On this TV Channel, everyone can be a content creator. Finally something that brings TV and Internet to one platform – although with the TV screen as a main focus. Following brand new and always an original scene of art and culture has never been so easy. Canal180 is available on Portuguese cable TV on position 180, on the Internet or Ipad and Iphone App.
Why Open Source TV? Because, this way, we can be a part of the real time showcases of all the talents out there. The shows on air are a part of a programing Schedule. The programs, we talk about vary from documentaries about world-changing ideas to the music festivals. Good news for us – non Portuguese, most of the shows are in English. On the top of everything, Canal180 is dedicated to magazine-lovers too. You will learn what is happening in the local artistic scene or what events are in the air.
How the TV market came into the picture
Remember the cultural scene 5 years ago? A lot of stuff wasn't coming up in a traditional media like it is now. The connection between artists and people recognising their work was not so strong. And this is when the first challenge for the creators of Canal180 João and Nuno showed up. They wanted to create a model that can open the media to new directors or just people creating arts. They were determined to give them the space that was bigger than the one inside the museum or the theatre.
Impossible? Not for João and Nuno. A lot of hard work? Hell yeah – but if you have the right people that understand the project and have a thing for arts, what can go wrong? Especially, when they are the experts on tech, editorial or production. Seems like the challenge was defeated since there are 12 people on the team now, including international interns.
But like in every startup, there are never enough challenges. Canal180 is not a commercial TV and its audience is very specific. And believe me; it is not easy to do something extra and to bring some alternative to the market. What is the recipe? When you are in touch with the artists, the relationships become more personal and you learn that it is possible to do world class work from Porto.
We live in a creative community. Everybody is an art producer now. We create visual content on Facebook, Pinterest, Instagram or Vimeo. So, in the end, our client is not a consumer, he is a producer. And this is why we aim to serve the community rather than build generic audiences – consumers. – João Vasconcelos
There is no way to count down the fans of Canal180. Surely, it does have more than 40 thousand of them on Facebook. But, it doesn't end here. There are millions of views on Youtube or Vimeo, millions of users of the biggest cable TV operators in Portugal. Thanks to the collaboration with the Pitchfork (online publication focused on Music reviews) and Archdaily (broadcast of Architecture news) – even more people run into Canal180. The Pitchfork and Archdaily do not only distribute the shows of Canal180, together they produce the series, for instance, introducing the new directors.
The series production has always been the main focus of Canal180. The daily grid includes shows such as Focus Forward, The Avant/Garde Diaries, Fubiz TV, Gestalten TV and Like Knows Like, among others. Several of them were funded by well-known brands like Mercedes Benz or Orange. Since Canal180 is a low profile TV channel, the business lives from the production. So, the portfolio is much wider than you'd expected. They are often asked to produce for big companies or cover for popular music festivals like Optimus Primavera Sound and Vodafone Paredes de Coura.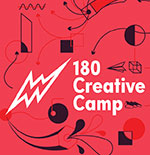 As if there was not enough yet, apart from these festivals, Canal180 has its own Creative Camp. The gatherings of artists at Creative Camp can be described as a Business of creativity and inspiration. More than once a year, Creative Camp comes up with an excuse to develop loads of awesome art work. It is not only the way to promote the Channel and engage the network, but mainly to give a chance for participants to propose their projects, work with professional artists and have some fun. This year the camp took place in July and September. The two events were a bit different. July brought it to Italy and was devoted to the youngsters from disadvantaged areas. We will see what the future brings, but don't be surprised if the Creative Camp comes to your country soon.
Canal180 admits its plans to try out with countries like Poland, Colombia or Chile. Either with the Creative Camp or even with the Shows airing on different TV channels. The team already has contacts with Polish or Spanish TV operators. For now, these are their key markets to focus on, because they believe in the countries with specific cultural scenes. They are looking for the refreshing countries with new kinds of active artists that do things a bit differently. The path to take is also to look for European capitals of culture, which have a big potential to support innovative ideas.
As you can see, the gap in TV market may slowly disappear for good. By the end of 2014, 90% of households in Portugal will be able to watch Canal180. Now, do you still think that Television is a complete waste of time?