In 2012, three visionary men decided to reinvent the stock trading. Challenging? Yes! Impossible? Not for the founders of Zercatto.
If you are an investor seeking a better performance in the financial market, Zercatto is the answer to your prayers. Not only you get to follow and learn from experts in this field, but also retain total safety and privacy while doing so. Zercatto connects experts on trading with investors, who are tired of paying management fees and losing money on the stock market.
Experts, if you are looking for exposure, come to Zercatto. You can easily create, manage and share your portfolio and in exchange for your knowledge, Zercatto will bring you clients. You can set your weekly charge per follower; you receive financial reward for sharing what you excel at and your client gets positive returns.
So what led the team to create this revolutionary online trading platform?
CEO Gaspar d' Orey shares the story:
In our corporate jobs many clients came to us and asked for advice. Then, despite our advice, they went and bought whatever stock seemed promising. We got tired of seeing investors losing their money. We realized that we could connect experts on trading with investors. This relationship will benefit both parties and change the way we look at the stock market. 95% of people lose their money on the stock market. We are left with 5%, who actually know how to make a positive return. We contact these experts and explain to them what we do. Some won't join, but many of them find the concept interesting; some even come to us because they want to share their knowledge and show the financial world how good they are.
Maybe you are thinking 'Why should I trust some guy and follow his strategy?' On Zercatto, which works as an auditor, you can see the expert's history; you can see how much the expert made or lost in previous months. The team in Zercatto is committed to keeping this information transparent and updated for investors. If you are new to stock market, Zercatto will act like your older brother and guide you step by step, towards positive return.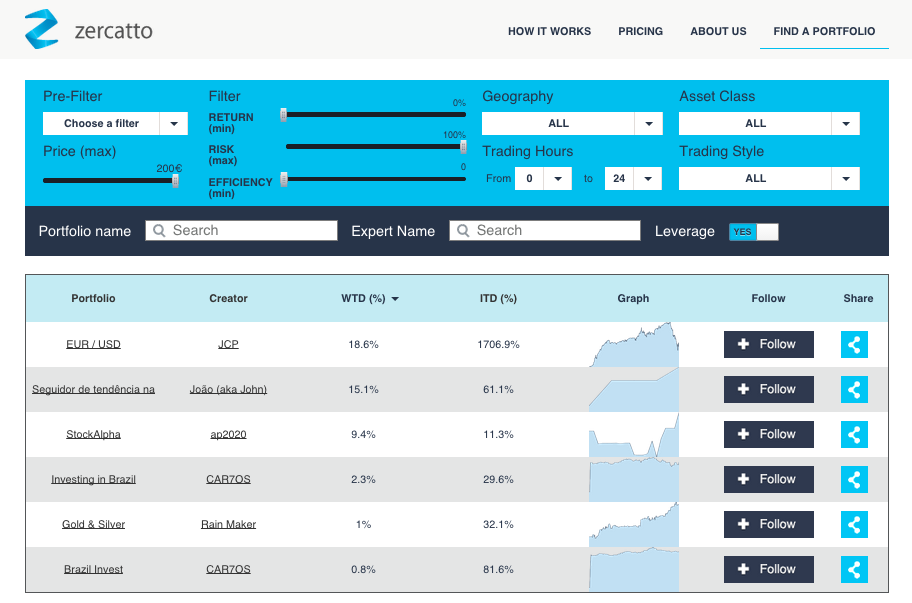 Currently, about 170 experts share over 220 strategies with 80 investors and thousands of followers. Do you wonder why these people share their valuable knowledge? Gaspar d'Orey has a simple answer to this question:
The majority of our experts are independent traders who invest their own money. On Zercatto they can leverage their knowledge; they gain international exposure, ego boost and income.
If you decide to join the worldwide community of investors and traders, you can expect a huge support from the team. Gaspar d'Orey feels that it is vital to onboard the new clients himself. 4 full-time employees and 2 full-time founders create a fantastic team that listens to everything their clients have to say. Appreciating good feedback, they also welcome a negative feedback, which helps Zercatto to improve and grow.
Zercatto believes that the general model of the industry needs to shift from management fee to performance fee.
We believe clients should pay, but only if one gets positive return. That is the essence of Zercatto – pay if you profit.
Still not sure about the awesomeness of this aspiring start up? Maybe you need to know that Seedcamp backed Zercatto, as one of only 7 startups in 2013. Seedcamp, together with other investors, believed in the company right from the start and invested €300 000 in Zercatto.
If you are worrying that you need thousands of Euros to enjoy the rush and benefits of trading, stop now. On Zercatto you can easily follow a strategy with €1000 or €2000 and create extra income or a safety net if you will.
Try 3 weeks free demo and take your portfolio back. And every time you are in a doubt, Zercatto team will be there to help you out.