Two years ago, the Coworking Europe Conference took Lisbon by storm and brought 300 cowork owners to the capital. This year the event takes place in Brussels but Portugal, Porto to be more precise, will also be thinking about cowork.
SEE ALSO: 300 cowork owners in Lisbon for Coworking Europe Conference
Cowork Buzz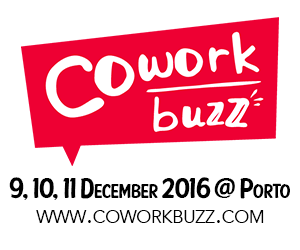 is an event created by the community, to the community. Will happen in Porto on the second weekend of december (9 to 11 Dec.) and is being organized by the team of Porto i/o, the recognized cowork space at the heart of the city known by its tech culture and digital feeling. Cowork Buzz pops-up as an event dedicated to all things cowork, curated with a special touch. The cowork lifestyle is here to stay and all the cowork founders, space managers, coworkers, lovers and curious of this movement are invited to get together and understand where the future take us.
The goal is to join experiences and discuss the current state of this community. What are the trends, common difficulties and strenghts, ways to help each other and grow?
The participants are deciding the agenda. How? When you get your ticket you are invited to pick the topics your are more interested about. Among the possibilities you'll find the Future of Cowork, Coliving, Coworking Management Software, Events & Networking, Digital Nomads and others. The feedback will lead Cowork Buzz to the topics the community wants to know about. The majority of the speakers are still to be publicly announced, but a little bird told us that Fernando Mendes, founder of CoworkLisboa will be there.
The event will take place one week after the Coworking Europe Conference 2016 and this will allow us to use Cowork Buzz as a way to debrief the national community about what happened in Brussels.
Nuno Veloso, porto.io founder and Cowork Buzz organizer
The community has two options for the event: the unconference or the camp.
The unconference: includes 2 days of networking & knowledge sharing through thematic conversations, active work sessions and exchanging notes over wine.
The Camp: 3 days that includes the Unconference, accommodation for 2 nights, sharing room with some other participants, breakfast every morning and a delicious Porto experience.
One last detail: Early Bird prices are on until November 27.