We have written before about the intersection between technology and fashion and the potential this nascent field has for Portugal. Companies like Farfetch, Chic-by-Choice, Gleam and ASAP54 are leading the way and showing that it's possible to succeed in the field.
SEE ALSO: The top 4 tech startups on fashion in Portugal
It's also important not to forget that the textile and leatherwork industry is big in Portugal. It has been growing for the past few years and gaining a great reputation internationally. The very traditional industry has been benefiting from a new wave of young designers that began to partner with them to make stylish products with international audiences.
Today, one of these products is launching a Kickstarter campaign to raise the $10,000 to meet the minimum order required by its manufacturer. Meet Uvoir, a company that was born with the idea to unite functionality with design, creating fashion accessories that allow the XXI century professionals to be more efficient and organized without giving up and sacrificing style.
Uvoir founded by Joana Lopes and Celso Benídio is a Portugal based, ultra-functional fashion brand combining a minimalist fresh design with the finest materials and European craftsmanship.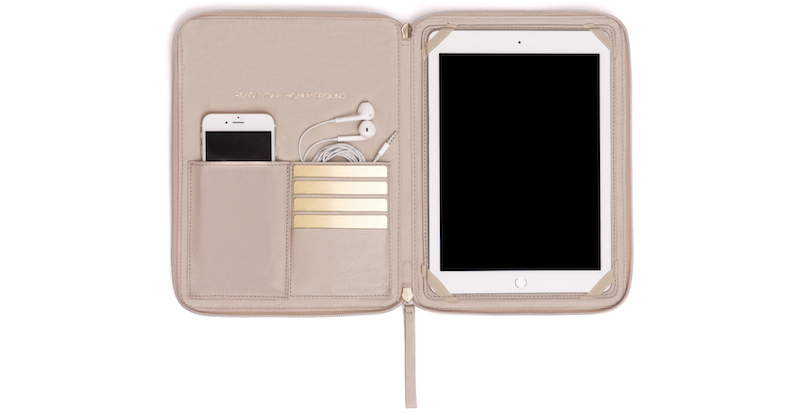 When asked why they decided to launch Uvoir, Joana Lopes said:
In our minds people shouldn't have to choose between a highly functional, technical or fashionable everyday accessory. The vast majority of the fashion accessories we see elsewhere are not designed to be practical or even to improve our quality of life. They only complement our outfits, which we always thought to be too basic.
Uvoir follows 4 key pillars on its mission to promote the workplace gender diversity through fashion:
The Design – Logo free minimalist lines
The Uvoir accessories are formed with discrete, minimalist lines that allow them to speak for themselves. The Simone collection was designed to accentuate the best in their customers.
The Function – Everything you need fits right in your accessory
The Uvoir first product, a leather iPad case, comes in three colors: Black, Beige and Salmon. It has a group of compartments that allow men and women to easily transport and quickly arrange credit cards, the smartphone, receipts, and small cables.
The Quality – Handmade in Europe with Italian Leather and lifetime guarantee
The Uvoir collection is handmade in Portugal and incorporates the finest materials. The Uvoir manufacturer has more than 50 years of experience with well-known luxury fashion brands. High fashion accessories come rolling out of their workshop on a daily basis.
All the materials were chosen to ensure that the accessories would last a lifetime. This is why Uvoir offers a lifetime guarantee on everything the brand produces.
The Social Responsibility
All the partners of the brand have to meet high criteria of respect for equality in leadership positions and salaries for both men and women.
Uvoir has also decided to donate 3% of its sales to NGOs that promote the workplace gender diversity in the world. Its first partner NGO will be Dress for Success in Portugal – the Portuguese representation of the U.S. NGO – which helps unemployed women achieve personal and professional success.
Check their video for more info about the company, products and mission.