Porto is one of Europe's fastest growing tech hubs in terms of active members, coming in at number three behind Sofia, Bulgaria (2), and St. Petersburg, Russia (1), according to a report by Atomico.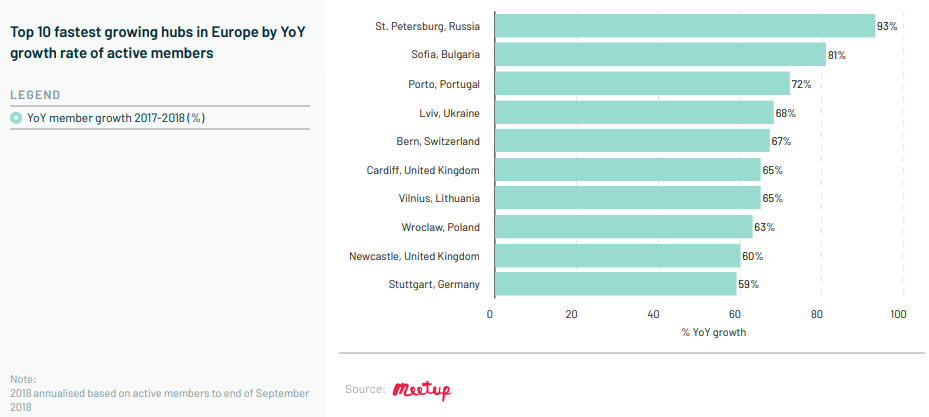 "The growth of the tech community of Porto is a strong sign of Portugal's growing maturity"
The report, The State of European Tech 2018, published by Atomico in partnership with Slush and Orrick, shows that total investment in European tech companies has reached $23 billion, up from $5 billion in 2013.
Read More: A peek into the Top 25 emerging scaleups in Portugal: report
This year, 17 European companies have achieved valuations of billions of dollars, and three of the 10 equity-backed stock exchanges come from Europe, including the successful Spotify sales.
In a memorable year marked by Outsystems' mega round of financing, Portuguese technology companies are expected to raise $400 million, up from $15 million a year earlier.
Read More: Portugal Has A New Unicorn
"The massive investment in Outsystems suggests that Portugal's potential is coming to fruition. The Portuguese are mobilizing talents and creating a powerful ecosystem – sustained by Europe's fastest growth rate in terms of professional programmers," said Tom Wehmeier, Partner, Head of Research Director at Atomico, and author of the report.
At the same time, the Portuguese developer community is growing faster in Western Europe, an increase of 16.2% compared to the previous and compared to the European average of 4.2%.
The report also reveals that the Portuguese technological landscape is not confined to Lisbon; Meetup data shows that Porto is the third fastest growing hub in Europe in terms of active members.
Read More: Over 24K companies created in Portugal in 1st 6 months of 2018: Infotrust report
All this activity is being reflected in the exponential growth of employment in the tech sector in Portugal, rising 6.4% last year, just behind France.
"The Portuguese are mobilizing talents and creating a powerful ecosystem"
The report highlights six main trends driving the performance of the technology sector in Portugal:
Exponential growth in Portuguese technology – more than US $400 million is the figure for technology investment in 2018, up from $15 million invested in 2017, driven by the mega round of funding of $360 million from Outsystems (the fourth largest round of funding in Europe).
Portugal is the fastest growing country in terms of number of programmers – The number of professional programmers in Portugal grew by 16.2%, the fastest growth rate in Europe. The European average was 4.2%.
Portuguese technology is not just about Lisbon – Porto is the third largest European center for growth (72%) among all active Meetup members. Portugal, as a whole, is the sixth fastest growing country (51%) in Europe in terms of increasing the number of active members in technology-related Meetup Groups.
Portuguese technology is boosting employment – While global employment in this sector across Europe grew by 1.1%, the technology workforce in Portugal grew by 6.4% in the last year. And it falls short of France, which is at 7.3%.
Europe has a problem of diversity and inclusion – of all funds raised by venture capital-backed European companies in 2018, 93% went to teams of fully male founders.
Pension funds are failing to democratize the technological boom in Europe – in the last five years they have invested only $1.7 billion in venture capital, but have invested 45 times more in European bailout funds than in venture capital, the equivalent of more than $75 billion during this period. Over the last five years, of the total invested in venture capital in southern Europe, 9.9% came from pension funds and 19% from individuals and family offices.
"Like other European countries, Portuguese technology continues to expand beyond the capital. The growth of the technological community of Porto is a strong sign of Portugal's growing maturity," added Wehmeier.
A word from our Sponsor: Looking for Content Marketing support? Click here.