Sensi creates a Bluetooth MIDI controller to bring the IoT to music, making instruments smart and connected, which will later go to market following a crowdfunding campaign.
Sensi M is the brainchild of Portguese entrepreneur and musician João Neves.
Sensi M is made to enhance expressivity while creating and performing. It is small enough to fit in your pocket and can be attached to any instrument, or it can be used as a standalone device.
"When applied to an instrument, Sensi M allows you to interact with the sound effects of the same instrument in a creative and expressive way, or it allows sound interaction with other instruments," Neves told Dinheiro Vivo.
The IoT device will receive two modules in the coming months, and they are still in development, so an official launch has not yet been announced.
Sensi will start by having a single offer for each type of module, a master and a slave. For the master module, there will be the Pressure Atom – with a pressure sensitive interface – and for the slave module there will be the Turn Atom – with a knob.
Users can attach the Pressure and the Turn Atoms to an instrument and re-position it as many times as they want according to their needs – thanks to a special bottom surface that leaves no dirt or damage.
When these modules are ready, a crowdfunding campaign will be launched to start marketing this product.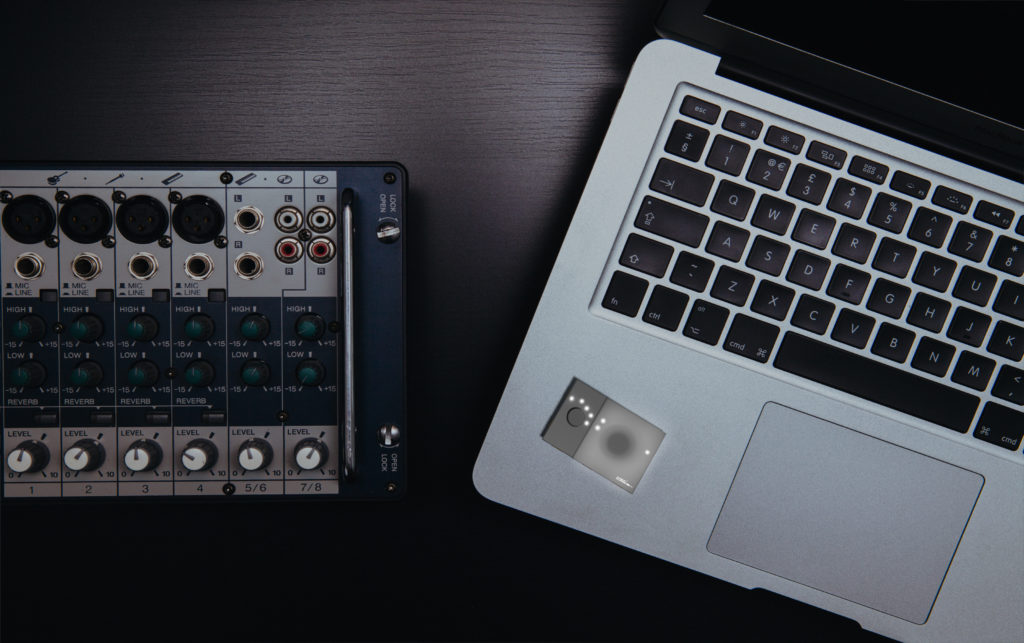 The IoT device is like "a simple remote control that can be used to control any parameter of a sound effect," said Neve.
As it is a Bluetooth MIDI controller, users can connect it directly to computers, tablets or smartphones.
The Sensei M smart device can be used for:
Sound effects in an expressive way if you play an instrument
Remotely controlling effects
Trigger samples
Trigger drums on virtual instruments
Playing a single note or a chord in a synthesizer or virtual instrument
Tapping the tempo of a delay or of a metronome
Attaching it on a microphone to control vocal effects
And more
Sensi was born in 2016 thanks to Startup Lisboa's Momentum program, which has since been discontinued.
Startup Lisboa Momentum was a scholarship program for Portuguese recent graduates or university finalists with a business idea and entrepreneurial spirit, but no financial way of dedicating themselves full time to the creation of their own startup.
Read More: Keep up the Momentum
It included scholarships for three people that lasted 12 months, and gave €500 per month in pocket money, along with free accommodation and incubation space at Startup Lisboa.
Neves won this program with the initial business idea of ​​providing a consulting service to musicians.
In addition to Sensi M, Neves has many successful projects that are all compatible with one another.
https://www.youtube.com/watch?=26&v=yaAexpGzVes
Sensi Guitar is a conventional electric guitar with a built-in remote controller that allows interacting with external equipment and software. The controller consists of extraordinary surfaces, such as proximity and pressure sensors which are interesting to used in a guitar. The sensors are versatile in the usage, and the user decides when to use them and in what way.
Lady Six Strings is a software that works with modular effect processors. It has a wide range of applications, and it works with any kind of sound source or plug-in, and musical equipment. The software not only allows users to save presets of the signal paths, but also to interact between the pairs of internal and external controls.
Cat's Brain is a foot controller personally designed by Neves. Its main characteristic is the ability to aggregate an enormous number of pieces of stage equipment. The controller works with a conventional network system with no need for drivers. It is intuitive in the usage and the choice of the presets is easy to understand.
The aim of Sensi is to encourage people to experiments in musical expression and to create a stage ecosystem – the "Internet of Stage."
According to the company's LinkedIn profile, The "Internet of Stage" will connect all the equipment and the people involved in a performance. This will simplify the interaction, what results in making all the performance elements more natural and entertaining.