While Portuguese brands like Parfois or Lanidor strongly implement themselves in the global market, some big international brands choose Portugal to manufacture some of their products: Armani, Versace, Dolce & Gabbana, Hugo Boss, Kenzo, Guess, Louis Vuitton and more.
Even though Portugal is not so recognized as a fashion hub, the country has a long textile and Leatherwork tradition with many factories, mainly in the north, working in the field.
We may get back to these more traditional industries in a future article, but let's now talk about a new generation of entrepreneurs.
The consumers want to have access to fashion everywhere and the new entrepreneurs just want to make it more accessible. Internet is a game changer in every field, so, we introduce you to 4 top Portuguese tech startups on fashion.
Farfetch
Farfetch is a global community of over 300 independent fashion boutiques located from Paris to new York, from Milan to Seattle, from Riyadh to Bucharest and more. They are all united in Farfetch, where you can do the order and receive the products directly from the boutique to your door. All in an inspirational shopping experience to fashion lovers.
Gleam

Gleam is the way to discover, shop for and organize all things style related in the mobile digital world. With 300.000 active users, Gleam is available in English, French, German, Portuguese, Spanish and Turkish, having a stronger presence and a growing market in South America. The app is bringing users the latest trends in the fashion world by publishing more than 400 photos every day, handpicking for users all their favorite global brands, allowing to buy and plan the outfits ahead and to make the style social. Gleam also has some advantages for the industry as keeping up with consumers and know in real time how preferences are changing across the markets, segments and with fashionistas everywhere.
asap54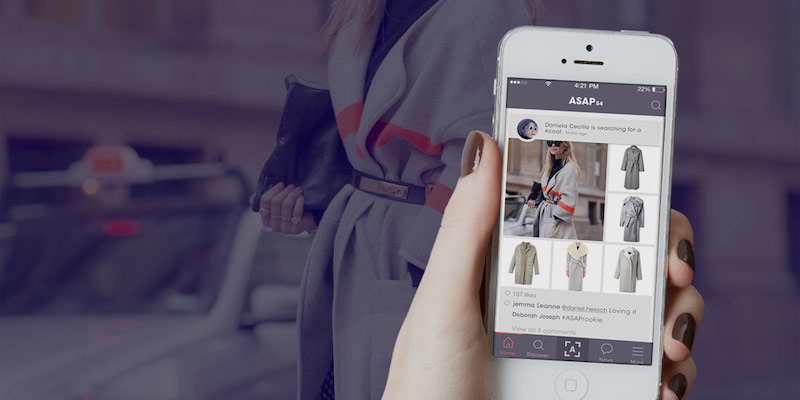 Think of it as the Shazam for fashion. You take a picture to clothes you love with asap54 and it helps you find that exact piece and others similar around you in the physical world. Daniela Cecílio, the founder, was previously part of Farfetch's founding team.
Chic by choice
Chic by Choice allows women to access the most breathtaking designer dresses, straight from the catwalks. It is a renting platform that gives access to luxury design dresses for a price 85% lower than the sale price. They are now shipping dresses from more than 40 designers to more than 15 countries in Europe.
Cover Photo Credits: Farfetch website