One week away from the first Ruby Conference in Portugal, we decided to talk to Roberto Machado, one of the organizers, that explained how the idea came up and what can we expect from this event, happening in Braga from 13th to 14th October.
First steps
Ruby is a well-known open source programming language, widely used in the startup community in Portugal. It was with the purpose of reawakening the Northern Ruby community and to discuss what was happening in the Ruby world that Roberto Machado and Luis Zamith (co-founders of Group Buddies) created in March 2013 the Minho.rb, an informal meetup for Rubyists.
Almost one year later they decided to create the very first national event for Rubyists, the RubyConf Portugal (the biggest event until now was Rubynorte, with a regional focus).
The purpose is to bring the community together and to put Portugal on the map, not only amongst ruby conferences, but also amongst the OSS community in general.
What can we expect?
With 14 international speakers and 200 expected participants, RubyConf Portugal will be the best place for you to exchange knowledge and enthusiasm for the language. In the first-class panel of speakers we highlight the presence of Katrina Owen and Steve Klabnik, two of the most active GitHub users and a reference in the international scene.
At the same time the fun was not forgotten, and you will definitely have lots of it in a sunset and a farewell party.
Even though the RubyConf agenda only starts on the 13th, there will be some other related activities in the 12th and supported by the organization: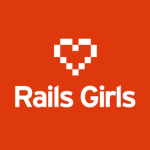 The Rails Girls Braga, an event to mitigate the gap between genders in technology, that will gather a group of women interested in programming using Ruby on Rails.
Dinner & Drinks, included in the Rails Girls Braga agenda, which is open for everybody and where you can meet the participants and speakers of the Ruby Conference.